Battery Service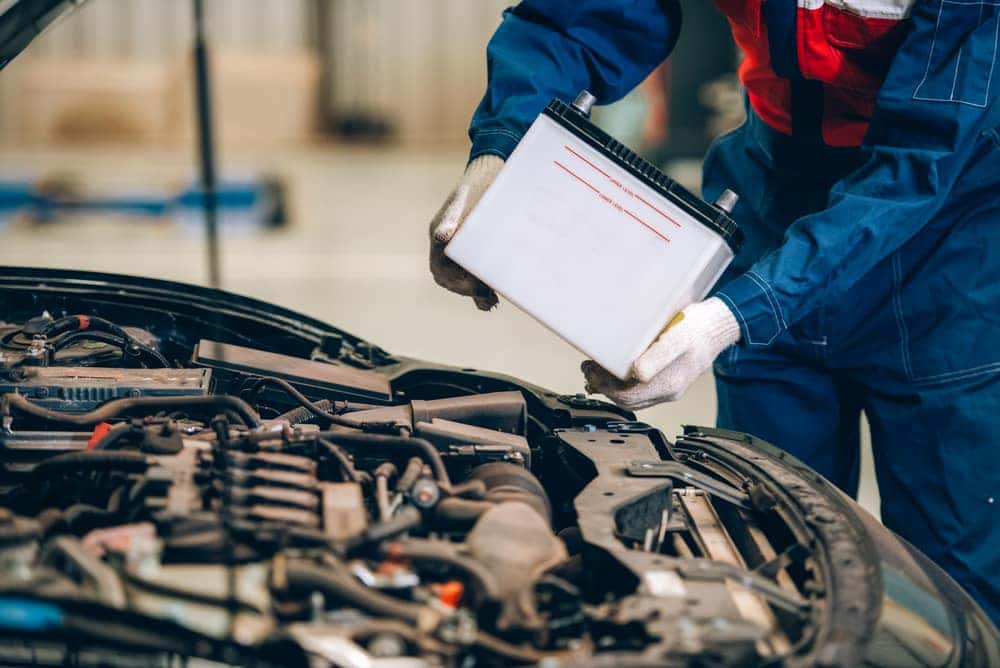 Battery Service
If you've ever tried to start a car with a dead battery, you know how it feels to be stranded on the road or stuck at home, waiting for road service to arrive. A little advance planning will allow you to replace your car's current battery before it dies. Bring your vehicle to the Ocean Crest Chevrolet Buick GMC service Center for expert battery service. We'll check your battery's health and provide battery replacement if necessary.
A chemical reaction in your car's battery supplies the electricity necessary to start the engine. Initially, it also sends power to the radio, the lights, and other accessories. Once the engine starts, the alternator supplies the electricity to run the vehicle.
The battery in your car has a limited lifespan. When it gets weak or dies, it can't produce the electricity necessary to start the vehicle. Don't wait for the battery to die before replacing it. The service technicians at the Ocean Crest Chevrolet Buick GMC Service Center can inspect your vehicle's battery using the most up-to-date battery testing equipment. We provide the best Clatsop County battery service.
Most car batteries last between three and five years. Replacing the battery every three years will help ensure it doesn't die. Learn to recognize the signs of a faulty battery, especially if you live in a climate with very hot summers or frigid winters. Symptoms of a failing battery include:
The engine starts slowly.
The battery indicator light comes on.
Battery fluid is leaking.
The battery's case looks bloated or damaged.
Weather affects battery life. When the temperature soars, the water inside the battery can evaporate. This will result in lower performance, making it difficult to start the car. When the water in the battery evaporates, it's more likely the battery will begin to corrode. Corrosion is the leading cause of leaky and dead car batteries.
Cold weather is another enemy of car batteries. The colder the weather, the harder the battery must work to create the energy to start the car. Cold weather also causes the engine oil to thicken, further straining the battery.
Take your vehicle to the Ocean Crest Chevrolet Buick GMC Service Center for expert battery service. We'll check the battery for corrosion and leaks, inspect the battery case and cables, and make sure the battery is fully charged. If the car needs battery replacement, we'll provide you with a high-quality battery. Check our website's Service Offers page for discounts on batteries.
Call us to schedule a battery inspection, or use our website's Schedule Service page.